FAQ
Q: What are the positions for the F-valve in relation to the straight Bb Trombone?
A: See the picture below.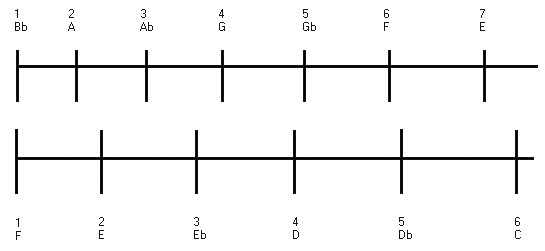 The long line is the length of the slide.
The other line is the positions on the slide.
The on highest one shows the positions for a trombone in Bb (with no valve).
The lower one shows the positions for a trombone in F, or a Bb trombone using the valve.
(A Bb-trombone tuned in F.)
When using the valve there is no 7th position.
(With o lower trombone (tuned in F) the positions is farther away from each other. There's only enough length for six positions using the valve. First position on the valve is the same as the 6th on the Bb trombone.)
To be able to play low B (below the staff) two valves are needed.
Q: How can I receive a Catalogue?
A; if you need, we will give the relative one by e-mail.
Q: Where are your instruments made?
A: We manufacture all of our instruments in our factory in China.
Q: Why is there a waiting period?
A: Our instruments are made under production schedule, so we don't usually have stocks. It usually takes four to six weeks to finish your order if we don't have stock.
Q: What forms of payment do you accept?
A: you can be aware of it clearly from "How To Buy".
Q: why should I used to clean my trombone?
A: For trombone with a lacquered finish, wipe clean with a soft cloth, we use Tarni-Shield on silver plated horns. We mix the product half and half with water. It goes on evenly, dries quickly and polishes off easily.
Q: What kind of valve oil do you recommend?
A: We do not recommend any particular brand of valve oil, however any high quality pro oil is acceptable for use on our trombone.
Q: How to store the instrument?
A: Always use your case for storing the instrument after playing and for transporting. Be sure the mouthpiece and other accessories are secured tightly, as they can scratch and dent your trombone if they come loose during transportation. Do not put anything in the case that could place pressure on the instrument. To keep your instrument in optimum playing condition, have it professionally cleaned and inspected by a qualified repair technician annually.
Q: What lines of instruments do you offer?
A: We offer a full line of brass instruments, from trumpet, trombone, French Horn to tubas.
Q: What kind of finish you can supply?
A. The most popular trombone is made of gold lacquer. We can also make it nickel plated as requirements. And we can also supply different colour trombones as your requirements, red, green, blue, black, etc. What's more, some customers ask for Silver Plated Trombone or Gold Brass Bell Trombone with high quality for advanced use.
Q: Do you also have trombones specially designed for Junior Student?
A. Yes, you can look through the products section for details, both alto trombone and turning slide trombone.
Q: Does the trombone come with case or Bag?
A. The normal packing for the trombone products is Foambody Case. And we can also supply ABS or Wooden leather case for choice.
Q: Can we have our logo on instruments and cases?
A. Yes, certainly, when you achieve a certain quantity, we can do it for free. Please check with the sales department export@canexmusic.com for details.
Q: Can I get the marching trombone from you?
A: We can offer, as well as other marching brass instruments.